This will be a Professional Course for Medical / Engineering / Competitive Exams / Research Science emphasising on the clearing the Fundamentals.
Best NEET Coaching. Completing HSC Based portion for clearing concepts based on NCERT Guidelines

Preparation from the Competitive Exams point of view for CET / JEE / NEET etc.

Practicals from examination point of view will be part of the course.

Career Guidance to students.
Batch Size : Max. of 25 Students.
Students will perform experiments to understand concepts.
Considerate Batch Timings.
Lab Setup for Physics, Chemistry, Biology and Maths.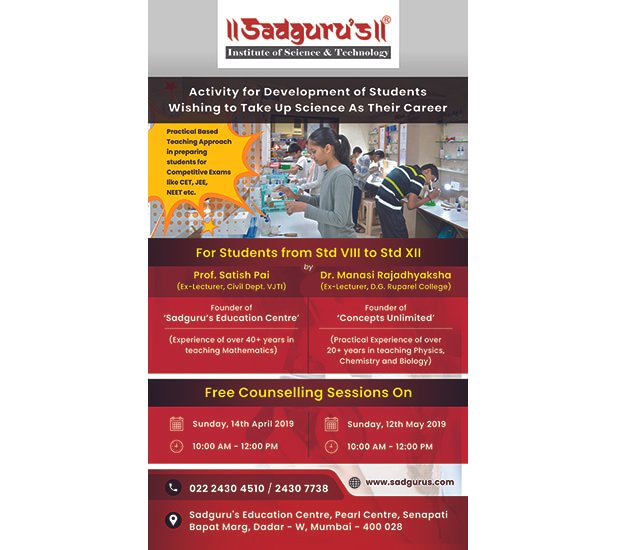 Highlights of Our Activity :
Understanding Concepts through experiments and practicals specifically designed by us.
All courses designed to help students prepare students for most of the competitive exams like Homi Bhabha, Olympiads, NTSE, CET, NEET and JEE.
Gradual exposure of depth of any concept from Std VIII to Std XII with interlinkages between topics, subjects and grades.
In depth preparation of 'Mathematics' especially for students wishing to take up Engineering / Technology as their career.
Free Counselling Sessions On
14th April 2019
Timing - 10 am - 12 pm Sunday
12th May 2019
Timing - 10 am - 12 pm Sunday
MORE DETAILS REGARDING THE COURSE WILL BE GIVEN AT THE COUNSELING SESSION